Remove Blackheads After Just A Few Minutes!
The All-In-One Pore Cleanser Pro™ is
Top Rated in 2019
& will change the way you do skincare. This helps
Remove Blackheads, Dead Skin, Built-Up Makeup in Pores, and gets the blood flowing for Healthier, Fresh looking skin.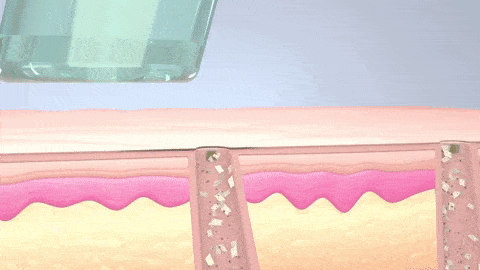 OVER 100,173 PRODUCTS SOLD ALL OVER THE WORLD
 Deep Pore Cleaning
- Unique small round hole design, can remove acne, blackhead, or dirt inside the pores to deep clean the pores and prevent acne.  
Diamond Skin Peeling
- The exfoliating tip provides a non-invasive treatment to rub off top skin layer to remove the dead cells. Makes skin smoother, with more refined texture, and firmer by stimulating your natural cell renewal.
 Face Lifting
- The vacuum lift system creates a gentle stimulating massaging action, stimulates micro 
circulation, makes firm skin and tight face.
 Wrinkle Removal - Unique small elliptical hole design creates a gentle massage and stimulates the corner of eyes, nose, mouth to prevent deep wrinkles.
 UPGRADED DESIGN

 
- This Pore Cleanser Pro™ is the newest version created from years of technological advancement in the skin-health industry. It comes with more interchangeable heads, offering more upgraded functions and a deeper clean for your facial skin.
HOW TO USE
Cleanse your face with facial cleanser and steam/wash your face with facial steam or hot towel.
Choose a nozzle and connect it to the device according to your needs.
Long press the power button for 3s and start with the lowest suction mode.
Hold and move it around your arm to feel the suction and choose the right speed.
Start using on your face. Please don't stay in one place. Move the eraser around in the direction of the path (do not move back and forth).
IMPORTANT NOTES
Before using this device: You must use facial steam or hot towel for 3-5 minutes to warm the face and open the pores on the face.
While using this device: Please do not stay in one place. Move the tip to draw around in the direction of the path (do not move back and forth).
After using this device: Please use a cold towel or cold mask to tighten the pores on your face and then apply a moisturizer to your face.


SPECIFICATIONS
Suction power: 53KPa to 59KPa
Power input: 5V-1A Power: 5W
Size: 198*42*58mm
PACKAGE INCLUDES
One (1) Pore Cleanser Pro™ - Professional Vacuum Technology
Five (5) Hole Heads
One (1) USB Charge Cable
One (1) User Manual
Click the 'Buy It Now' Button!