🔥Attention: 50% OFF for LIMITED TIME🔥
Are you looking for something to effectively repel pest, mosquitos, and even rodents? We have the solution for you! Our UltraSonic Pest & Rodent Repeller will help you with that!
Pests, rodents, insects, and bugs will forever disappear from your home with this UltraSonic Pest & Rodent Repeller. It works on ultrasonic sound waves and pulses that a human ear cannot sense.  
The product is harmless to your kids, pets, and to adults. The sound waves irritate the pests and not let them hide in the walls. 
The frequency of this repeller constantly changes, so that the pests do not get used to it. This also attacks all types of pests, rodents, and insects. 
This also prevents you from wasting money on traditional mouse traps, insect sprays and other chemical solutions that can be harmful to your family. It has been tested and approved by independent laboratories to make your home environmentally safe, chemical free and poison free. You can now equip your home with an advanced technology pest repellant that you can trust for your family's 24/7 protection!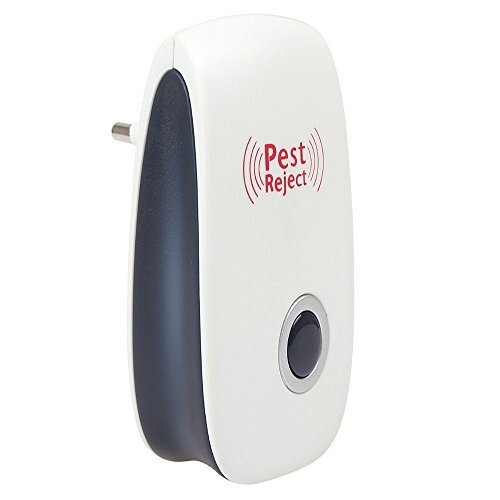 Specification:
Easy to use - Just plug it in the wall and watch it do wonders;
Safe for people and pets - The product will not hurt your kids and pets, or you.
Non-Toxic Environmentally Friendly Natural Pest Control for Rodents and Insects such as Mice, Rats, Mosquitoes, Cockroaches, Crickets, Spiders
Ultrasonic Technology Pest Repeller, No Poisons, Traps, Chemicals, Insecticides
Plugs into AC 220V or 110V Power Sources and includes a night-light with an on/off switch
Safe For Use Around Humans, Dogs And Cats
Moisture proof and Waterproof
Brand : Pest Reject
EAN : 0046728481035
Product Dimensions(LxWxH) : 13x6x10cm ; 136 g